Luis and JudyAnn
Healthy Chicken and Asparagus
Updated: Oct 19, 2020
This simple stir fry is so easy to throw together and ready in only 20 minutes! Tender chunks of chicken, fresh asparagus, and a quick sauce make this one pot dish perfect for any night of the week!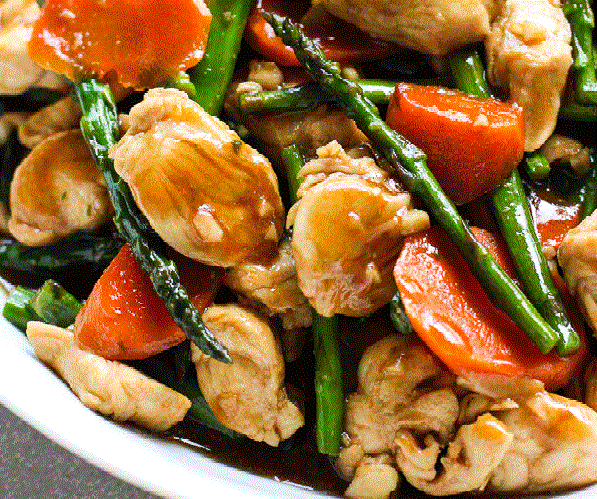 If you are looking for quick and easy weeknight dinners, and I mean, who isn't? Stir fry dinners are the way to go. You get your protein, your veggies, your everrrything in one skillet and less than 2o minutes later, the fam is at the table eating a healthy dinner. Can you say winning?
Tender and sweet sprigs of fresh asparagus are a wonderful vegetable to add to a quick and easy chicken stir fry recipe. It only takes a few ingredients to make a healthy chicken stir fry with a vegetable that everyone in your family enjoys. This skillet dish is a smart way to enjoy all the exciting flavors of a classic Asian stir-fry while allowing you to use almost any veggie you already have in your refrigerator.
Stir fry dishes are often touted as being both easy and healthy, but if you've ever Googled for stir fry recipes, you've probably found that, too frequently, they are neither! Many stir fry recipes are quite ambitious, requiring that you find your nearest Asian grocery and hunt down dozens of hard-to-find ingredients. These stir fry dishes may turn out beautifully, but they certainly don't make easy weeknight dinners! Other recipes call for high sodium ingredients, tons of oil, and fatty cuts of meat. These hardly qualify as healthy.
This quick chicken stir fry can be made with either boneless skinless chicken breast or chicken thighs and you can serve this stir fry with rice or pasta. What ever you decide to you, don't be afraid to add extra asparagus because the wonderful, tender taste of these sprigs are fantastic. It's hard to not love chicken stir fries.
Ingredients:
2 boneless, skinless chicken breasts, cut into bite-sized pieces (about 1-inch)

1 Tbsp. sunflower oil

1 bunch asparagus, cut into bite-sized pieces

4 cloves garlic, thinly sliced

1/4 bag of frozen crinkled carrots

Half a yellow onion

2 Tbsp. ginger paste

Dash of crushed red chili flakes

2 Tbsp. corn starch

1 cup of chicken stock
Directions:
Heat oil in a large skillet over medium-high heat. Add chicken, and saute until cooked, about 5 minutes.

Add asparagus, onions, and crinkled carrots and saute until cooked, about 5 minutes.

Add ginger paste

Sprinkle in red crushed chili flakes.

Combine chicken stock and corn starch and incorporate the mixture with the remaining ingredients and mix well.

Cook for an additional 3 minutes and remove from heat.

Serve immediately with rice.

Enjoy.
Do you like #Watching #Recipe #Videos????
Watch to see how easy it is to make Chicken and Asparagus!


#Subscribe today and be a part of our Just8ate #Foodie #Community!